Aventis Student Support Services and Facilities
The Aventis Student Support Services is provided by the Student Service (SS) and consists of student services executives and manager who will support students in the following matters.
ORIENTATION
A comprehensive Orientation Programme will be conducted to introduce all Students of to the Course and the administrative matter. The Orientation Programme will cover:
Aventis – Vision, Mission, Values
The Aventis Team.
Update of Class Schedule.
Details on Course Handbook
Academic regulation and Assessment related matter including deadlines, academic appeals, assessment criteria and marking standards
Type of certification awarded at the end of the course.
The Standard Student Contract (PEI contract).
75% Attendance regulation
Fee Protection Scheme.
Refund Policies; Withdrawal Policies; Transfer Polices.
Aventis Feedback channels and grievance procedures.
Aventis Student Support Services and Welfare.
Course Deferment/Extension criteria and procedures related to suspension and expulsion conditions.
Pre-Course Counselling Survey
Online orientation slides are available at Aventis official website for students who are unable to attend the orientation.
https://www.aventis.edu.sg/resources/
WIRELESS INTERNET CONNECTION
Free WIFI Internet Connection is available to student campus-wide, students will need to approach any staff at Aventis for the details.
CLASSROOMS
Aventis has 4 classrooms located at #04-100 Concorde Hotel which can accommodate up to 133 students at a time. 
| | | |
| --- | --- | --- |
| Classroom name | Approved Seating Capacity | Floor Area |
| B.Baruch | 25 | 37.80 sqm |
| C Powell | 31 | 47.50 sqm |
| B.Cohen | 33 | 50.44 sqm |
| L.Zicklin | 44 | 66.24 sqm |

TEACHER-STUDENT RATIO
The maximum teacher-student ratio at Aventis is 1:60.
LIGHT REFRESHMENT & BEVERAGES 
Light Refreshments such as coffee, tea and assorted biscuits are also provided for students and staffs at Level 4 pantry. Water dispensers are also available readily.
STUDY AREA

The Study Area is also set up for students to do their work or to complete their assignments and projects.
LOST AND FOUND
Students shall contact Student Services with any items found or to locate property lost.
ADDITIONAL ACADEMIC RESOURCES FOR STUDENTS
It is recommended that all students seek membership in one of the major external libraries in Singapore. Most reference texts, but more importantly extensive journal holdings, are available at the major external libraries where students can do further research and readings.
There will be a fee charged for the external library membership and students will need to pay this fee themselves, directly to the external library, and may want to contact the below to find out more:
National Libraries, please visit website at https://www.nlb.gov.sg
National University of Singapore (Hon Sui Sen Memorial Library), Kent Ridge
Nanyang Technological University Library, Nanyang Avenue
National Institute of Education Library, 1 Nanyang Walk
Singapore Polytechnic Library, 500 Dover Road
Ngee Ann Polytechnic Library, 535 Clementi Road
ASSISTANCE TO DISADVANTAGED STUDENTS
A route from the hotel lobby to the main office or vice versa has been drawn up for disadvantaged students who have difficulties in climbing up and down the stairs.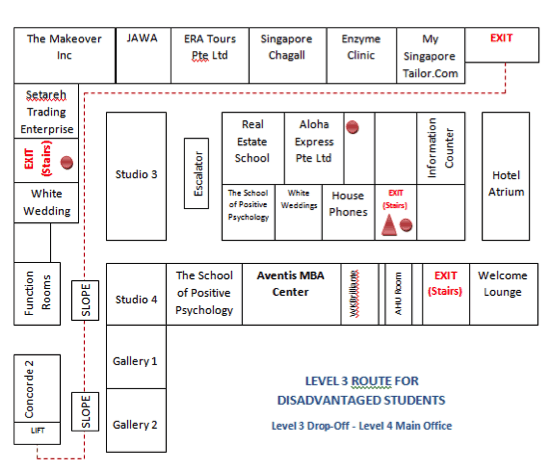 MEDICAL INSURANCE 
Aventis has in place an optional medical insurance scheme for our students (except those students specifically allowed to opt out under the EduTrust certification scheme). This medical insurance scheme is offered by Liberty Insurance Pte Ltd. This medical insurance scheme shall provide a basic annual coverage limit of not less than $20,000 per student in the B1 ward in government and restructured hospitals and up to overall maximum limit per policy year, with 24 hours coverage in Singapore and overseas (if the student is involved in school-related activities) throughout the course duration
Part Time students have a choice to opt out from the medical insurance if they already have existing medical insurance in place.
INDUSTRY-WIDE COURSE FEE INSURANCE SCHEME (IWC)
The IWC is administered by CPE under the Enhanced Registration Framework (ERF). The IWC serves to protect the student's fees in the event that a Private Education Institution (PEI) is unable to continue operations due to insolvency and/or regulatory closure.
The IWC is a group-based insurance policy that provides coverage to students studying in the PEI. Aventis adopts the IWC that ensures that the unconsumed course fees paid by our students are insured.
Our appointed IWC provider is Lonpac Insurance BHD. A copy of the master policy can be found here.
Students can access more information on the IWC at CPE's official website.
FINANCIAL ASSISTANCE
Installment plans and bank loans are available for Aventis students. Students who wishes to take education/bank loan may seek further advise from our Programme Manager.
Standard PEI-Student Contract
The Standard PEI-Student Contract is a legal binding contract between Aventis and its students that embodies the following mandatory requirements:
Clear definition of the course details

Full disclosure of all costs for tuition and non-tuition fees

Commitment of the Fee Protection Scheme

Clear definition of the refund policy
All students are required to sign the Standard PEI-Student Contract upon enrolment before making any course fees payment.
Sample of the Standard PEI-Student contract can be found here.
For more information of the Private Education Act, please log on to https://www.ssg.gov.sg/
DATA PROTECTION SCHEME (DPS)
Aventis School of Management is committed to maintain the confidentiality of the student's personal information and undertakes not to divulge any of the student's personal information to any third party (unless required by law or other statutory regulations) without the prior written consent of the student. Under the Private Education Act 2009 and the Private Education Regulation 2009, Aventis may provide the information to third parties such as other academic institutions to verify qualifications; and our fee protection and medical insurance providers for administrative or legislative purposes.
PARKING FACILITIES
For students who drive, parking is available at Concorde Hotel itself. However, do note that charges still apply.
MON-SAT
Before 6 PM

$2.14 for 1st hr,

$1.39 for next subsequent 30min from 7am to 6pm

MON-SAT
After 6 PM

$3.75/entry from 6pm to 7am the following day

SUN / PUBLIC HOLIDAYS

$3.75/entry from 7am to 7am the following day
CONTACT TO STUDENT SERVICE TEAM
For any enquires and any administrative processes or students services support, students can contact our student service colleagues through
ADDITIONAL ACADEMIC SUPPORT
Appointment of Lecturers
Generally, lecturers of Aventis Singapore will hold at least a Masters in their area of teaching expertise from a regionally or internationally accredited institution or foreign equivalent.
Additional Academic Support via Email
Students are encouraged to communicate with the respective module lecturers about academic matters via email
Academic Referencing Workshop
Aventis will conduct a Academic Referencing Workshop for all its new students. Whilst this academic referencing workshop is complimentary and optional, students are strongly encourage to attend this referencing workshop which will be beneficial for the preparation of their academic assessment.
COLLABORATION WITH PARENT/LEGAL GUARDIAN
Aventis collaborates closely with parent/legal guardians for students under 17 years of age. Regular updates of the student's attendance rate and academic progress will be communicated to these parent/legal guardians.
PRE-COURSE COUNSELLING
Enquiries may be received via the following modes: Emails, telephone calls, walk-ins, previews, events, and referrals. All enquiries must be handled with integrity, professionalism, patience and discretion. Program Manager are required to adhere to a strict Code of Conduct.
The pre-course counseling provides the Program Manager with the opportunity to find out more about the prospects' interests, aspirations, hopes and objectives. As such, Program Manager should utilize the opportunity to conduct a fact finding session and to provide the prospects with the information required for them to make an informed decision.
PASTORAL COUNSELLING
The Student Counsellor in Aventis is a trained counsellor who provides professional counseling that includes assessment, intervention and psychoeducation. Besides the provision of the aforementioned, the counsellor is also involved in the administrative and research functions. The Counsellor is able to provide counselling in the following areas:
Couple Family Children
Youth Grief/Stress/Depression Trauma
Anger management
CLUB & ANNUAL ALUMNI NETWORKING
Aventis offers support in linking up local alumni to their university alumni in terms of outreach and activities such as reunions for local chapters and alumni networking sessions, etc.
There shall be an activity organised for the students annually. Activities include social and recreational networking session, professional development seminars, Career coaching session. Details of each activity will be released to students via email. Aventis also aims to establish an active student club with a greater variety of activities in future for the students to enhance their student life activities.
PROFESSIONAL DEVELOPMENT COURSES
Here at Aventis, a dedicated Graduate School for Professionals, we firmly believe that the success of our students stems from out relentless quest to improve your educational experience with us and our philosophy of serving as a platform where talent meets opportunities.
Therefore, students who are keen to take up a Professional Development Courses with Aventis Learning Group will be given a subsidised rate. The key focus is on promoting the development of interpersonal communication, critical thinking skills and creative problem solving skills.
CAREER COACHING OPPORTUNITIES
Aventis offer services aimed at enhancing employability and career skills for graduates and soon-to-graduate students. Career guidance through one-to-one counselling and group coaching are services available to graduating students by appointment basis.
INTERNSHIP (PLAN FOR 2019)
Although internships are not compulsory in our part-time programmes, we strive to actively exploring internship opportunities for our full time as part of our holistic education approach. The internship initiative will be implemented when Aventis had been awarded the EduTrust Certificate and offering full time programme.
GRADUATION
Aventis holds a local Graduation Ceremony for graduates who successfully completed their degree/master courses with respective University partners. Students who are eligible to attend the Graduation Ceremony will receive an email invitation from the Student Services Team on the details.
REGULAR REVIEW OF STUDENT SUPPORT SERVICES
Aventis shall regularly evaluate and review the student support services, counselling and advice services, for continual improvement to ensure high standards of services annually as part of the annual management review.
For International Students on Student Pass Only*
For international student, Aventis plans to provide a more comprehensive level of service to support the students when they arrived in Singapore. The following Student Support Services is in additional to the ones provided to Part time students above
Application of Student Pass
All international students must apply study pass. For new student pass applicants, Aventis will help you to apply for Student Pass through E-form 16 (ICA Form 16). New applications are to be submitted at least 2 months and not more than 6 months from the course commencement date.
Average Processing Time for Student Pass
The general processing time for a new application is about 4 weeks upon the receipt of a duly completed application by ICA. Some applications may however take a longer time to process. Applicants are advised to enter Singapore to complete the formalities for the issuance of a Student's Pass only after their applications have been approved. They will be issued with Student's Passes within one month from the course commencement date.
In Principal Approval (IPA) Letter
Upon successful approval of Student Pass Application, IPA letter will be issued by Immigration Checkpoint Authority (ICA). Print out IPA letter and passport with minimum 6 months validity is vital to bring along before your departure to Singapore.
Pre-arrival Checklists
It is important to know immigration requirements to plan for smooth travel before you come to Singapore. You must have passport with 6 months validity to travel abroad.
Support Upon Arrival in Singapore
Besides participating in the orientation programme listed above, international students will be brief on the following matters
Briefing of Singapore's Law and Regulation
Relevant Singapore laws especially those relating to ICA and Ministry of Manpower (MOM) including immigration requirements, laws on driving, drugs and alcohol abuse, employment, smoking, traffic and littering, etc.
Advice on personal and medical insurances.
Public Transports
Advice on accommodation and the cost of living.
Do's and Don't in Singapore
Setting up of Bank Account/ Banking Services
General healthcare services in Singapore.